WEEKLY UPDATE
Each week on Friday there will be an update on all things to do with Fairlight.
Please read and click on the links to find out what is going on.
WEEKLY UPDATE
Week 4 Term 1- Friday 30th September 2022
Another fun filled week in school this week with everything from Spiderbear and Winnie the Pooh escaping (again) to ITV News to New Parent Visits.
For those who have been here a while- a fairly normal- even somewhat quiet week in Fairlight terms.
GOLDEN TICKET- see Prize List above
The school is a "buzz" with talk of McDonalds in the staffroom or Water Fights with teachers.
The children (and staff) have not lost the plot or entered in to an alternative world of schooling.
These are prizes in the upcoming Golden Ticket Raffle.
Tickets are on sale in the playground on Tuesday 4th and Thursday 6th October.
READING AFTERNOON
We will be holding a Reading Afternoon for parents on Monday 10th October from 2pm.
The afternoon will start with a presentation about how we are teaching reading a Fairlight and how you can support your child at home.
There will then be a chance to do some reading activities with your child in the classroom supported and guided by their Classteacher.
If you have more than one child at Fairlight we recommend starting the afternoon with your youngest children to hear the presentation and do some reading. And then move to your older child.
Once you have heard the presentation and been to do some reading you will be able to (from 2.30pm) take your children early- hopefully to go home and do some more reading.
Please come to the front office from 1.45pm to sign in and join us for this event.
OPEN MINDS BOOK PROJECT
https://www.justgiving.com/campaign/TOMPbookfund
We are very lucky to have had a donation of some amazing books from the Open Minds Book Project.
One of the goals of the Open Minds Book Project is to provide schools with free books that educate young children about the beauty and reality of diversity.
They want the next generation to be open-minded and educated about themselves and others who look different from them. The books they donate to schools are intentionally selected to expand the storytelling and stories available to children.
They believe that access to these books will make the education system more grounded, robust, and diverse. The books will enable teachers to nurture children to have a balanced socio-cultural worldview for a better society.
These are currently on display in the School Library and in the library to be read.
A huge thank you to them.
You can also say thank you to them by going on Social Media and tagging @tompuk_ or @theopenmindsprojectuk.
Or by making a donation to support them https://www.justgiving.com/campaign/TOMPbookfund
MR JORDAN ON TV AGAIN
Mr. Jordan has the office waiting to accept a call from I'm a Celebrity or Strictly.
He was once again on TV this week to talk about the Food SOS Campaign in Brighton and Hove.
This is an essential campaign and something we as a school will be supporting for Harvest this year.
https://www.itv.com/news/meridian/2022-09-29/campaign-launches-to-drive-up-donations-as-more-people-rely-on-food-charities
HOLIDAY DURING TERM TIME
Just to remind everyone that all information about absence and taking your child out of school during term time can be found on our Attendance Information pages https://www.fairlight.brighton-hove.sch.uk/school-office/attendance
And before you start thinking about it- the answer is NO.
DONATIONS
We are looking for the following if you someone who might have some or might be able to help:
Woodchip for the Nursery Shelter to go in the Mud Kitchen area

Knee Pads- for children to use.
If you have these then please bring them to the School Office.
HALF TERM ACTIVITIES
A range of providers have sent information about clubs and courses that are running at Half Term locally.
Don't hesitate or wait around as many of these book up really quickly.
Information is below for now but will be moved to our Out of School Information page soon- https://www.fairlight.brighton-hove.sch.uk/beyond-the-classroom/out-of-school-information-for-parents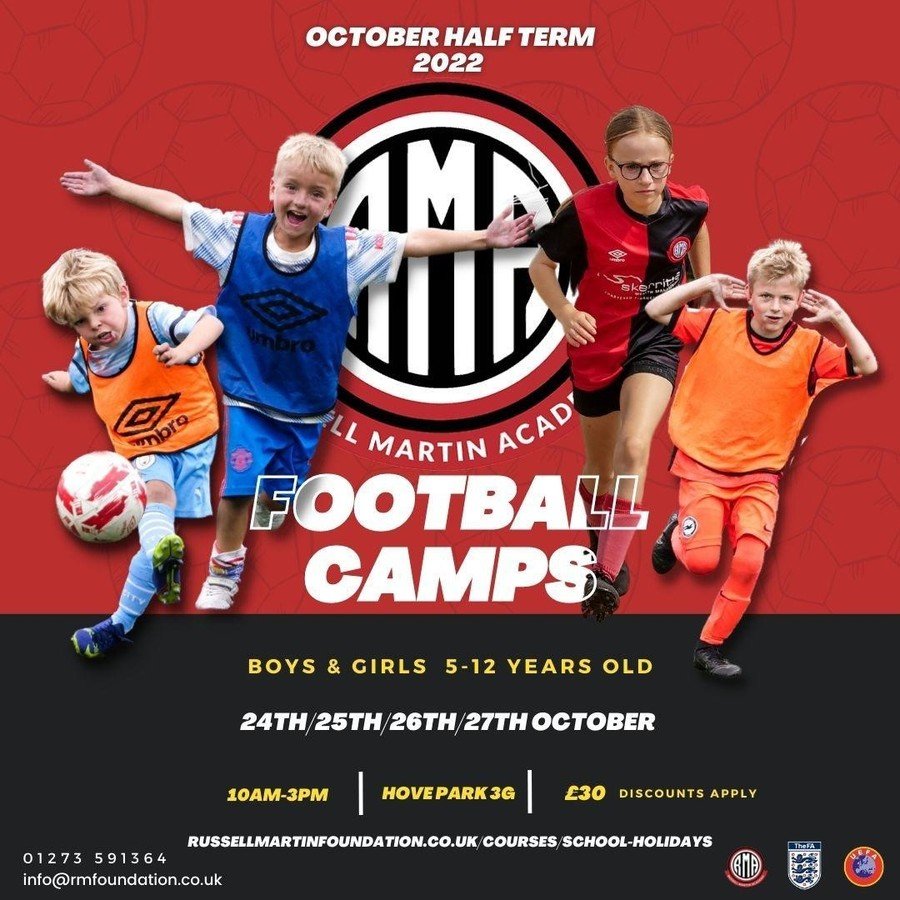 Converting
Converting
Football sessions during October

half

term
We have some exciting activities for your pupils coming up this October

half

term

. Please share the below information with parents so they can book a session.
Brighton & Hove

Albion

Soccer Schools are back. We'll be holding fun games and exciting drills delivered by our qualified coaches – hours of football fun to make

half

term

special for all children.
Our disability football camp returns for the autumn and will take place on 25 and 26 October. Check out all the details below.
People can book any of our sessions at: https://bookings.

albion

inthecommunity.org.uk/
Brighton & Hove
Albion

Soccer Schools
Brighton
Venue: Dorothy Stringer School, Loder Rd, Brighton BN1 6PZ.Dates: 24, 25 and 26 October, 9am - 3pm. BOOK NOW
Uckfield
Venue: Uckfield Leisure Centre, Downsview Cres, Uckfield TN22 3DJ.Dates: 24, 25 and 26 October, 9am - 3pm. BOOK NOW
WorthingVenue: Thomas A Becket Junior School, Glebeside Ave, Worthing BN14 7PR.Dates: 24, 25 and 26 October, 9am - 3pm. BOOK NOW
EastbourneVenue: Ratton School, Park Ave, Eastbourne BN21 2XR.Dates: 27 and 28 October, 9am - 3pm. BOOK NOW
Hassocks
Venue: Hassocks Sports Centre, Dale Ave, Keymer, Hassocks BN6 8LP.Dates: 27 and 28 October, 9am - 3pm. BOOK NOW
Horsham
Venue: Holbrook Primary School, Holbrook School Lane, Horsham RH12 5PP.Dates: 27 and 28 October, 9.45am - 3pm. BOOK NOW
Girls-only
Venue: American Express Elite Football Performance Centre, 60 Mash Barn Ln, Lancing BN15 9FP.Dates: 24 October, 10am - 3pm. BOOK NOW
Converting
Disability football camp
We provide inclusive football sessions for players with a disability all across Sussex. These sessions are open to anyone with a disability who is aged five and over who wants to play regular football.

Our next disability football camp is coming up during October half term. You can see the details below:
Albion
in the Community, American Express Community Stadium, Village Way, Brighton, BN1 9BL. Registered charity in England and Wales (No. 1110978). Company limited by guarantee in England and Wales (No. 5122343). View our privacy policy
here
. Want to change how you receive these emails? You can
update your preferences
or
unsubscribe from this list
.
Copyright © 2022, All rights reserved.
Converting
Converting
WEEKLY UPDATE
Week 3 Term 1- Friday 23rd September 2022
Another busy week which sadly ended quite wet.
Thank you to everyone who has attended events in school or completed forms or payments for trips or clubs- which are all now up and going.
GETTING HELP WITH THINGS
We have been supported on a number of occasions by Mr Avard who works on supporting families and individuals to access support and finances when times get tough. He has managed to get a number of Fairlight families a range of different support or resources.
Thank you to him for this.
He has given me a form that can be completed to support people with about £200 towards energy costs at this time.
The form is enclosed below.
If you meet the criteria (and it is quite broad) then please complete the form and bring it in to school. There is a section that the school needs to complete and then we will get it sent off and register.
Times are tough and getting tougher so don't be proud or worry what anyone thinks.
If you meet the criteria then just complete the form and we will go from there.
NEW PARENT MEETINGS AND TOURS
Thank you to everyone who has been selling the school to friends and neighbours and encouraging them to come on a school tour.
We have already had to close 2 of the tours due to high numbers and other dates are filling up quickly.
Please continue to advertise these dates and events.
https://www.fairlight.brighton-hove.sch.uk/school-office/joining-us
MOVING TO SECONDARY MEETINGS
Thank you to all of the parents who attended this meeting to find out more about moving to secondary school. The presentation has been put on the LEAVING US page along with a few more invites from Secondary Schools.
https://www.fairlight.brighton-hove.sch.uk/school-office/joining-us/leaving-us
CHANGING SCHOOLS
We have had a few children who have been offered school places at other schools in the city in the past few days.
There is a clear protocol across Brighton and Hove Schools about how this will take place.
The essential first step is to speak to us so that we can tell you what can take place and what does need to take place.
Sadly whilst parents may be wanting it to happen immediately this is not possible and actually not always safe.
And of course it must be remember that moving a child may not also be the best thing to do- something we would talk to you about.
TRIPS THIS WEEK- AND FUTURE TRIPS
A number of school trips and visits have started this week.
Please ensure you read the information that has been sent home about the trip, what the children need to bring or wear, about the arrangements for packed lunch and of course what is needed in terms of payments.
The School Office spend a large amount of time organising and planning these events. Getting the best prices and costings (they must get 3 quotes for all trips for anything that requires paying for).
We also make no profit from trips and visits and cannot charge more than what the trip would cost a child to cover non payment.
Parents can "overpay" for the trip or make a donation at the time if they do however wish to.
In advance- thank you to those who do.
HOWEVER if you are not paying you still need to complete the form as this is the permission slip also.
PTA DATES
The PTA have a number of dates advertised to come along and chat with them to see how you can get involved.
See the School Gate for more information.
SCHOOL NURSE DROP IN
Niki our School Nurse will be in the playground on Tuesday 27th September 2022 if you want to speak to her about anything Health related to your child.
Or just come and say hello to her and see what information she has to share.
WEEKLY UPDATE
Week 2 Term 1- Friday 16th September 2022
We are now up and running and with almost everything underway this term.
This week there are a number of dates to get scribbled in your diary as well as a few important deadlines and dates for current Nursery and Year 6 parents.
There are also a few reminders about things that I am sure we will come back to throughout the year.
BANK HOLIDAY MONDAY
School will be closed on Monday 19th September 2022.
NEW PARENT MEETINGS AND TOURS
Parents of Nursery age children will need to be starting to think about applying for a school place for September 2023.
We will be holding a number of Tours/ Visits in the coming months for families to come and see our school.
The best advert for the school is of course to see it or to hear about it from those who already attend.
If you have friends with school age children then please encourage them to come and visit and to join us.
It is really important that parents do this as not only does it promote the school and to continue to make it an amazing school but our funding for the whole school is based on the number of children in the whole school. In simple terms- the more children we have the more money we have. And the more money we have the more we have to spend on the children.
Information about these tours can be found on our Joining Us page.
https://www.fairlight.brighton-hove.sch.uk/school-office/joining-us
Please feel free to share this across your various networks- both real and virtual.
The link has only been live a few days and we are already booking up very fast.
SECONDARY SCHOOL MEETING
Year 6 parents are invited to attend a meeting about Secondary Schools on Tuesday 20th September 2022 3.30-4.00.
More information about this meeting and information that we have been sent by the Secondary Schools can be found on our Leaving Us page.
https://www.fairlight.brighton-hove.sch.uk/school-office/joining-us/leaving-us
BRINGING THINGS FROM HOME
I just wanted to remind parents (and pupils) that if you have something precious, expensive or that you don't want to lose then don't bring it to school.
After only a week back we have already had a few pupils who have reported they have lost items.
I can confidently confirm that items are very rarely stolen at school.
However can confidently confirm we have a lot of children who lose things.
Or leave things all over the school.
The volume of lost property or items handed to the office that have been left in the dinner hall, in the corridor and found in the playground leads us to this conclusion.
We do not want to be one of those schools that start banning everything however it does require a bit of common sense on the part of pupils and parents on what they allow children to bring to school.
It should fit in in their pocket.
It should not be precious.
And if possible it should be able to be recognised easily (as you can imagine a lost Charizard Pokemon card looks just like the other 9 that other children all have).
And most importantly the person bringing it to school must take responsibility for it.
COATS FOR PLAYTIME
We will be going out to play in most weathers.
This will then require children to wear a coat to school.
Please ensure when the weather requires that they are wearing a suitable coat with a name in it.
SCHOOL UNIFORM
As the children have started back we have seen some of them get into bad habits.
Necklaces cannot be warn at school. They are a real problem at playtime and often get ripped off but also end up with the child with a large mark around their neck.
The same also for Make Up- which is not required to be worn to school.
Whilst many parents might need a nice bright lippy to get them through the day I am not sure a Year 5 is really needing the same.
And then we come to the actual uniform.
Red shoes have never been part of our school and any school uniform.
Green jumpers are not our school. And especially those with lots of writing on the front.
If your child has a special requirement then please speak to the Classteachers however we would be encouraging you to move to the uniform requirements and colours even if they need a special item.
As those parents who have children at secondary school will tell you. There is no alternative. These is no second chance.
Please do not waste your money and buy items for the children to wear to school that are not school uniform. They will be asked to take them off or not able to wear them.
https://www.fairlight.brighton-hove.sch.uk/head-teachers-office/school-information/uniform
FRIDAY FOOTBALL
If you are in Year 3, Year 4, Year 5 or Year 6 and want to take part in Friday Football Club then you need to fill in the application form by Thursday 22nd September 2022.
https://forms.office.com/Pages/ResponsePage.aspx?id=KmTye347xE6qpnl9014JDMruQ45hrYNPj6--sJaA13RUMUZMNEhSTU1aWEtNUE5PVTdEVVpPV01aSy4u
THANK YOU
A huge THANK YOU to those parents who have come forward with Donations following last weeks appeal for financial support as well as practical support.
We will be in touch with you directly about how these can be sorted or set up.
We have been offered several sofas for the Rainbow shelter however are having difficulty getting some of them to the school.
Does anyone have access to a Van that they could liaise with Chris (Caretaker) and organise picking these up?
If you can help then speak to Mr. Jordan or Chris at the school gate.
PTA
We will be needing to get our PTA up and running in the coming weeks so that they can get some exciting dates in the diary.
If you are interested and think you could help then please read the PTA page and make contact via this page.
The previous PTA members have all stood down to allow new members to come forward- they of course are still happy to be involved so haven't run for the hills with all the money.
https://www.fairlight.brighton-hove.sch.uk/school-office/pta
IT WOULD BE GOOD IF EVERY PARENT HAD A LOOK TO SEE HOW THEY CAN HELP.
CLICK THE ABOVE LINK TO FIND OUT MORE.
DATES
Parents Evening- Parents Evening this term has been set for Tuesday 18th and Thursday 20th October 2022. Timings will be 3.30-6.00 on both dates. Further information will follow on how to book.

Xmas Shows in the Church- Key Stage 1 Thursday 8th December 2022. Key Stage 2 Friday 9th December 2022.
PACKED LUNCHES
We have over the years seen just about everything in packed lunch boxes from Fortnum and Mason style lunches to a day old Kebab.
Below is a leaflet that shows some examples of what can be in a packed lunches.
We are very aware of the difficulties that some people are starting to see around finances and cost of items so will not be suggesting an extensive Marks and Spencer's sandwich platter every day. The suggestions are as much are health as they are about what is suitable for children to eat.
Week 1 Term 1- Friday 9th September 2022
Welcome back to everyone in what already has become a very busy as well as momentous week.
We welcome a number of new staff, children and families to Fairlight Primary and Nursery School.
The term has started well. Keep it up.
COMMUNICATION
Please ensure you get in to good habits of reading PING and checking the website for information.
We will no longer be using Seesaw to communicate. It was useful during Covid however we have moved to more accesible platforms.
However the communication is only useful if people are reading them.
ASSEMBLY ON MONDAY
We were going to meet together as a Whole School next week to welcome everyone to the new school year.
This was planned in the second full week to give everyone the chance to settle into their new routines.
We will be doing this on Monday 12th September however now will be discussing the events around the sad news about the death of the Queen.
SOME RESOURCES WE NEED
As ever we are looking for good quality secondhand uniform. Please bring this to the office washed if you have any.
We are also looking for a couple of new sofas for the rainbow shelter in the playground. These need to be durable as they will live outside. If you have anything or can help please speak to Chris or Mr. Jordan.
NUTURE CLASS
Neptune Nurture Class needs funding!! Sadly school budgets don't stretch to providing our famous toast which our children love.
What do we need? About £10 a week.
What can you do to help?
Sponsor us- your company may want to sponsor Nurture Class. You would get a mention on paperwork and on our Website.

Fundraising ideas- do you know how we could raise this money? If you do then please let us know.

Donations- you may know someone or a group who might want to donate towards this. £500 would more than cover a year.
What does Neptune Nurture Class do for our children?
Supports children in a safe space throughout the day

Helps develop self-esteem, confidence and self-awareness

Runs toast clubs, nurture sessions and drop in sessions for any children who need it
WAITING IN THE MORNING
Please remember that the steps of the houses opposite school are not part of the street or playground and parents and children should not be waiting or playing on them before school.
As I have said on a number of occasions I am sure you would not be happy to open your front door every morning to find random children playing all over your front garden or to find people sitting on your steps smoking or chatting.
We will continue to monitor this and if required will speak to children in school who are not following this request.
Don't forget until the gates open and children come in to school that they are your responsibility.
CLUBS
These are now up and running.
Sadly the "funfair of the football pitch" problem we have every year (several times) has meant we have had to delay the start of Friday Football.
Once the fair has gone Mr. Jordan will update when football club starts.
A COUPLE OF DATES TO GET IN THE DIARY
Parents Evening this term has been set for Tuesday 18th and Thursday 20th October 2022. Timings will be 3.30-6.00 on both dates. Further information will follow on how to book.

School Photos- this will happen on Wednesday 12th October. More information will follow on this. This will give you time to plan haircuts!!!
FRIDAY UPDATE PART 1- Sent before school
It is with sadness that Buckingham Palace announced yesterday the death of Her Majesty The Queen.
Today we will continue with routines and plans that were already in place.
In class however children will be given the opportunity to spend some time talking about events.
They will be able to watch some appropriate clips from programmes such as Newsround or CBBC.
This is a good chance for them to ask questions and find out more about the amazing Queen.
For those children for whom loss may be more profound we will talk to them further or provide them with other chances to talk to someone- should they need it.
We will come together as a school on Monday morning at 9.00 to do a WHOLE SCHOOL ASSEMBLY.
By then we will also have more answers and things to discuss.
Outside of that any other information is still be collated and once I have this (e.g. will we close/ what we need to cancel etc.) I will let you know.
We are awaiting further communications from the Department for Education either today or over the weekend once the Royal Household have confirmed the timetable of events.
Our thoughts, prayers and best wishes are with members of the Royal Family and all those impacted at this time.
A further more detailed update will follow later.
Weekly Updates
Below are the previous updates from this term. Please read through to find out what has been happening this term.
Of course to save room most of the pictures and videos have been removed from old posts.
You can scroll down to read them on this page also.