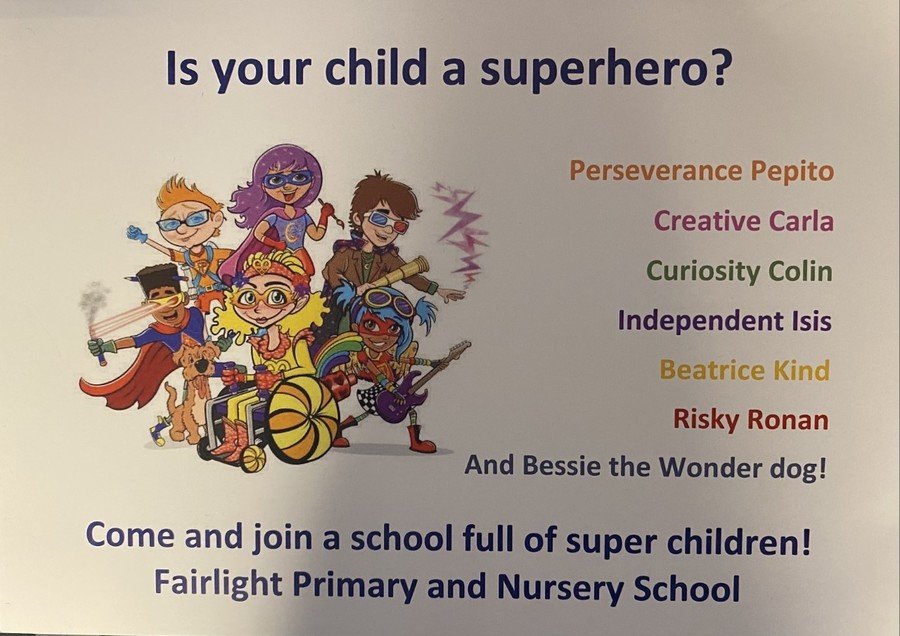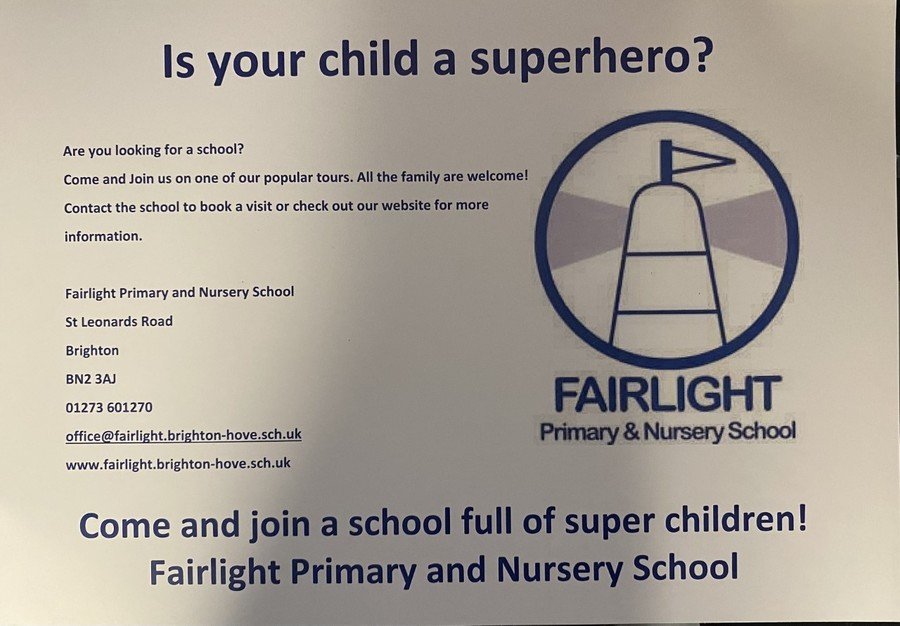 DATES FOR VISITS AND TOURS NOW LIVE
Over the past 2 years we have seen the largest number of parents visiting our school in the last 10 years.
We are therefore expecting a large number of applications to join us in September 2023.
As we have shared on the tours we feel this is due to a range of reasons however is ultimately down to the fantastic teaching and learning that takes places at Fairlight in our amazing learning environment.
CHOOSING A SCHOOL FOR YOUR CHILD
In the first instance when deciding on which school to send your child I would direct parents to the School Website and to particularly the Reception pages where we have information, photos and even videos to show you the amazing learning that is happening at Fairlight.
This should give you a flavour of the school.
You may want to visit other parts of the website also to see what we do at Fairlight.
Of course how far you live from the school and the number of people applying to the school with either a closer postcode or higher criteria for attending the school will ultimately decide if you can send your child to the school it is good to have a look and good to have options.
And then there is visiting the school.
JOINING US AT FAIRLIGHT
New Children Joining us in Reception
Choosing a school for your child is a big decision and one that we would love to support and be part of. It is always advisable to come and have a look at the school as you know your child best and you can discuss their individual needs or requirements. It is also good to see it first hand for yourself and not base your decision on what you have heard or what you might have read but most importantly on what you see and feel and know about your child.
NEW PARENT TOUR DATES 2023-2024
Watch this space for parent tours to book on to if you would like your child to start in Reception 2024.
MOVING TO FAIRLIGHT
Children move schools, circumstances change. As a school we work hard to support children and families through this process and have lots of experience in this area.
Admission enquiries are welcome for children aged 5 -11yrs for our main school and to arrange a visit to the school. Please contact the School Office for details of when you can visit the school as well as if places available for this current year. You will also need to contact Brighton and Hove Admissions https://www.brighton-hove.gov.uk/content/children-and-education/school-admissions/school-admissions.
Transfers within a school year may take several weeks to arrange and places are normally allocated for the next available half term. If you are moving house and the house move does not tie in with this timescale you will be able to start school in the middle of the term if a place is available.
For any children moving school we will need to discuss with parents and also the previous school how to make this experience as positive as possible.
A COMMENT ABOUT OUR AMAZING FILM
It is always very tricky to capture a Primary School or any organisation on a film. This is our efforts to try and capture what we are about at Fairlight.
It was filmed prior to the Covid Pandemic and not really meant as an advertising or sales tool. It was made to celebrate what we do and share this within our own community.
The content of the film- what the children talk about and what was filmed- was chosen by the School Council members who both appear in the film as well as the many others who did not want to appear on screen.
As you can see from the film the children are very articulate about the school and what takes place during the day both in the classroom as well as in other areas such as the playground.
Mr Jordan talks about various aspects of the school that you can both see and fills the gaps in what the children didn't talk about or share. The original film was over an hour so has been massively cut to make this short clip.
It shows the amazing building and fantastic play space.
A "traditional" Inner City School as Mr Jordan describes it. Three sided with playground in the middle.
As you can see the children and Mr Jordan celebrate the amazing learning, fabulous play and inclusive approach to education.
ADMISSIONS INFORMATION
For more information and the forms you need to fill in please visit the Council Website https://www.brighton-hove.gov.uk/children-and-learning/brighton-hove-schools/starting-infant-junior-or-primary-school
Please click here to find download the Fairlight Admission Information
We have 14 classes, 2 in each year group from YR1-YR6.
Admission Limit:
Foundation Stage - Reception - 60 children
KS1 (Year 1 & Year 2) - 120 children
KS2 (Year 3 - Year 6) - 240 children
Total Admission Limit - 420 children
You are welcome to look around our school at any time. If you would like to make an appointment to visit the school, please contact us on 01273 601270.
Throughout the Autumn term, we arrange group visits for parents of prospective Reception parents, during the day. Please contact the office to book a place on one of our group visits.
Arrangements for the admission of children to this school at age 4+ are made by Brighton and Hove City Council. A detailed description of the arrangements is contained in the guidance 'Infant, Junior & Primary School Admissions in Brighton & Hove 2015/2016 which can be found at www.brighton-hove.gov.uk/schooladmissions. A hard copy can be obtained from the School Admissions Section, Children & Young People's Trust, PO BOX 2503, King's House, Grand Avenue, HOVE BN3 2SU (Tel: 01273 293653).
Parents and carers may find it helpful to know that, if there are insufficient places available to meet demand, places will be allocated to children in accordance with the following list of priorities:
Children who are currently or were previously in the care of the local authority.

Children with compelling medical or other exceptional reasons for attending the school.

Children who in September 2019 will have a sibling at the school or at a linked junior school.

Children transferring between a linked infant and junior school.
If it should be necessary to decide between children within any of these priority groups, this will be done by giving the places to those children who live closest to the school.