FAIRLIGHT PTA Xmas Fair Raffle 2022
42 incredible prizes have been donated so far for our amazing PTA Christmas Raffle this year!
If you know someone who might donate in the future, let us know!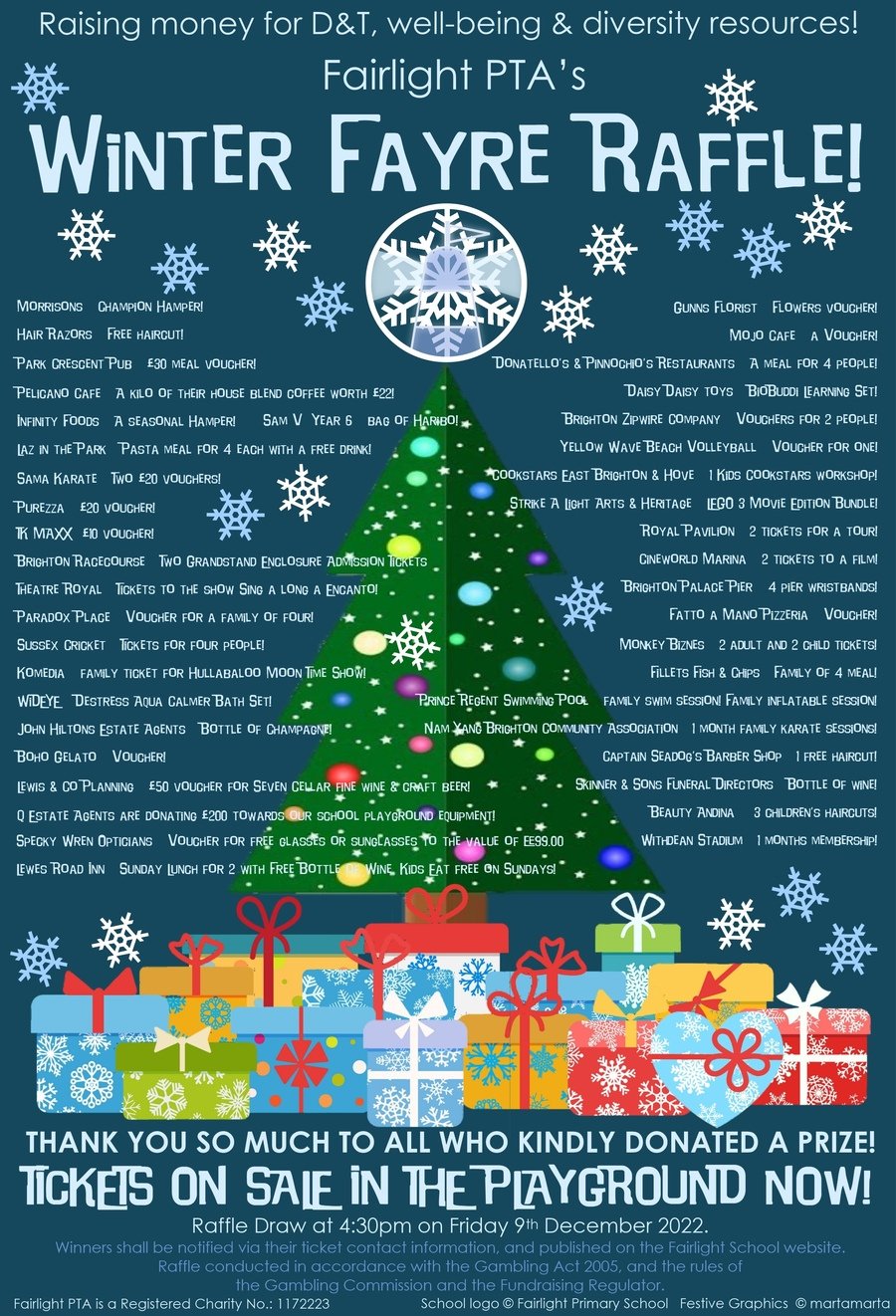 Donations So far for 2022!...
TK MAXX- £10 voucher!
Theatre Royal - Tickets to the show Sing-a-long-a-Encanto!
Paradox Place - Voucher for a family of four!
Komedia - family ticket for Hullabaloo Moon Time Show!
Sussex Cricket - Tickets for four people!
WiDEYE - Destress Aqua Calmer Bath Set!
John Hiltons Estate Agents - Bottle of Champagne!
Boho Gelato - Voucher!
Speccy Wren Opticians - Voucher for free glasses or sunglasses to the value of £99!
Q Estate Agents are donating £200 towards our school playground equipment!
Gunns Florist - Flowers voucher!
Donatello's & Pinnochio's Restaurants - A meal for 4 people!
Daisy Daisy toys - BioBuddi Learning Set!
Brighton Zipwire Company - Vouchers for 2 people!
Yellow Wave Beach Volleyball - Voucher for one!
Mojo Cafe - a Voucher!
Royal Pavilion - 2 tickets for a tour!
Cineworld Marina - 2 tickets to a film!
Brighton Palace Pier - 4 pier wristbands!
Fatto a Mano Pizzeria - Voucher!
Park Crescent Pub - £30 meal voucher!
Pelicano Cafe - A kilo of their house blend coffee worth £22!
Infinity Foods - Hamper!
Laz in the Park - Pasta meal for 4 each with a free drink!
Sama Karate - Two £20 vouchers!
Purezza - £20 voucher!
Monkey Biznes - 2 adult and 2 child tickets!
Fillets Fish & Chips - Family of 4 meal!
Captain Seadog's Barber Shop - 1 free haircut!
Nam Yang Brighton Community Association - 1 month family karate sessions!
Beauty Andina - 3 children's haircuts!
Prince Regent Swimming Pool - family swim session! Family inflatable session!
Withdean Stadium - 1 months membership!
Morrisons - Champion Hamper!
Hair Razors - Free haircut!
Sam V Year 6 - A bag of Haribo!
Brighton Racecourse - 2 Grandstand enclosure admission tickets!
Lewis & Co Planning - £50 voucher for Seven Cellar Fine Wine & Craft Beer!
Lewes Road Inn - Sunday lunch for 2 with free bottle of wine. Kids eat free on Sundays!
Cookstars East Brighton & Hove - 1 Kid's Cookstars Workshop!
Strike a Light Arts & Heritage - LEGO 3 Movie Edition Bundle!
Skinner & Sons Funeral Directors - Bottle of Wine!
Thank you so much to all of our kind donors!
The raffle has been drawn! Please check the list carefully.
Winners can collect their prizes from the office from Tuesday.
Any alcohol prizes must be collected by an adult.