From September 2020 one of our key areas with our School Improvement Plan is Well Being.
Our main target is To ensure a high focus on the well-being of all members of the Fairlight Primary and Nursery School Community.
As a school we pride ourselves on our vision of Every Individual Child Achieves. This isn't just about academic areas such as Maths and English but also more importantly about well-being.
As a school for a number of years we have promoted this area and had this as one of our priorities.
With the current situation this is even more important.
We actively support well-being through work in the curriculum but also through:
Our Nurture Class,

Various Well Being groups for pupils around themes and common threads,

Various Well Being groups for parents around themes and common threads,

Learning Mentors,

School Based Play Therapist,

Liaison with outside counselling services.
Also as a school we promote key aspects of well-being through other areas that we feel impact on a child, member of staff and parents well- being such as:
Opal Play,
Golden Time,
Our School Garden.
As well as many aspects of our curriculum.
Free family learning courses available
Places are still available on a selection of free online courses aimed at parents and carers in Brighton & Hove starting on various dates from Monday 5 October 2020.
They are delivered to small groups of learners by experienced tutors from Brighton & Hove City Council's family learning team.
The courses cover:
Building children's resilience

Supporting a child with anxiety

Maths – a selection of age-specific courses to help you support your child's learning, including helping your child with times tables

Relaxation tips and mindfulness for adults

Mindful play – ideas for calming play for parents and children to enjoy together

Family first aid

Easy, fun ways to support your child's language development

Helping your child to become a reader
Find the full list of courses and online workshops on the BHCC website:
https://www.brighton-hove.gov.uk/families-children-and-learning/family-learning-online-classroom
SAFEGUARDING DURING COVID 19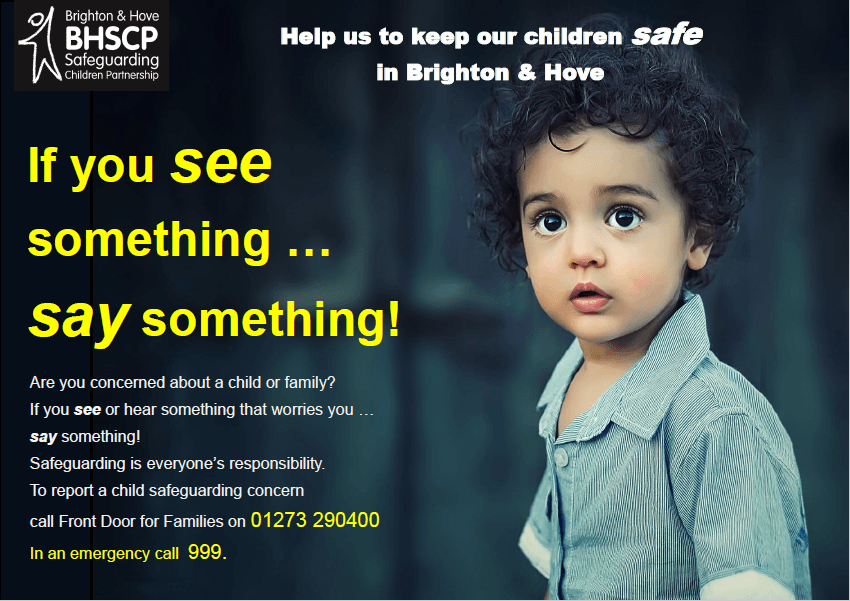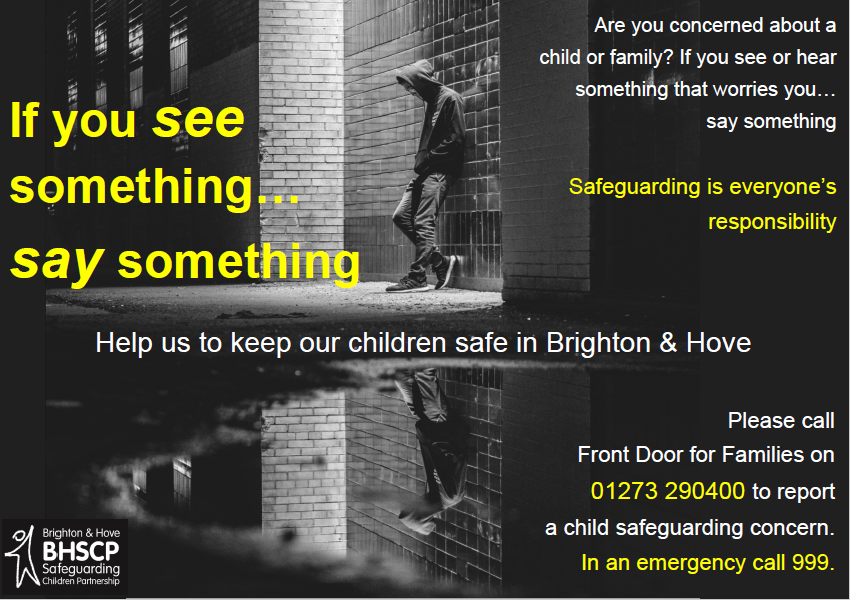 Converting
LOOKING AFTER THE CHILDREN
School Nursing Information for parents/carers of Primary school age children

School Nurses would like to advise you that during the current Covid-19 outbreak, we are still here for you and your family, to offer information and support about your child's health. You can contact us via our duty line, which is open from 9am to 4.30pm, Monday to Friday on: 01273 696011 ext. 1692. There is also an answerphone facility so that you can leave a message if it is outside of these times and we will contact you during working hours
We also operate a texting service called ChatHealth for young people, which we are extending to parents and carers to use during this period if you have any questions or want advice. The number to text is: 07480635423.
This service is available from 9am to 4.30pm Monday to Friday (excluding bank holidays). Any messages received at the weekend will be responded to the next working day.
PARENTING AT THIS TIME
As a parent, you get used to answering your children's difficult questions. And as the coronavirus outbreak has affected day-to-day life in so many ways, there will be even more than usual.
Your children will doubtless have picked up on the fact that life's changing. It's important to acknowledge their worries by being open, clear and honest..
There are lots of places to get information and advice on how to broach this, we have signposted a few that might be helpful.
YoungMinds has useful tips for Talking to your child about the coronavirus https://youngminds.org.uk/blog/talking-to-your-child-about-coronavirus/
nverting Playmobile Video
PLAYMOBILE VIDEO
This is a simple child friendly video that explains the virus. It also talks about the actions we are all having to take now and gives the reasons for them. Please watch yourselves before showing to your children.
https://www.youtube.com/watch?v=5DlOGKpMNs4
Converting
onverting
Dave the Dog is worried about Coronavirus
This is a simple story written by a nurse to explain the virus to younger children
https://nursedottybooks.com/dave-the-dog-is-worried-about-coronavirus-2/
Converting
Children's Guide to Coronavirus by the Children's Commissioner
The guide aims to answer children's questions about coronavirus, tell children how to stay safe and protect other people and how to help them make the best of their time at home.
https://www.childrenscommissioner.gov.uk/publication/childrens-guide-to-coronavirus/
Converting
Further Links if you would like more advice or support - see below