Converting
Home Learning - 'Ourselves' topic - W/C 8th June 2020
Conve
Converting
HOME LEARNING- How you can continue learning when the school is closed.
If you require any further support or help, please read the attached guidance.
In the event that the school is closed to pupils for an extended period the following resources and support is available to ensure that pupils continue with their learning.
Basic resource packs have been sent home by Year Groups of resources that some children may need to help them with their learning. Many parts of these packs can also be accessed online.
Update Friday 24th April
From today, teachers will be updating the Year Group Home Learning pages on Mondays and Thursdays. Some year groups are providing a weekly timetable to help parents. Please do not feel that you have to follow this timetable rigidly - just if it is useful. Each week, there will continue to be a range of activities, covering different areas of the curriculum. Some of these activities will need access to the internet. However, we are aware that some families may be sharing devices or have limited data so there will always be activities that can be completed without internet access or with limited access. Each week, there will always be more activities planned than we expect the children to do so that there is some choice for the children depending on their interests and depending on home resources. For all the activities, please feel free to adapt them if necessary and, please, just do what you can, when you can.
Some of you may have seen in the news today, information about Oak National Academy and BBC Bitesize Daily. Both organisations are providing daily lessons linked to the National Curriculum. Teachers may use these and will signpost you to the lesson they would like the children to complete.
Here is the link to the parent page for the Oak National Academy site and for the Home Page for BBC Bitesize Daily
ConvertingConverting
Converting
If you would prefer to have a workbook for your child to work through at home then you may find the CGP books useful. Click on the link here: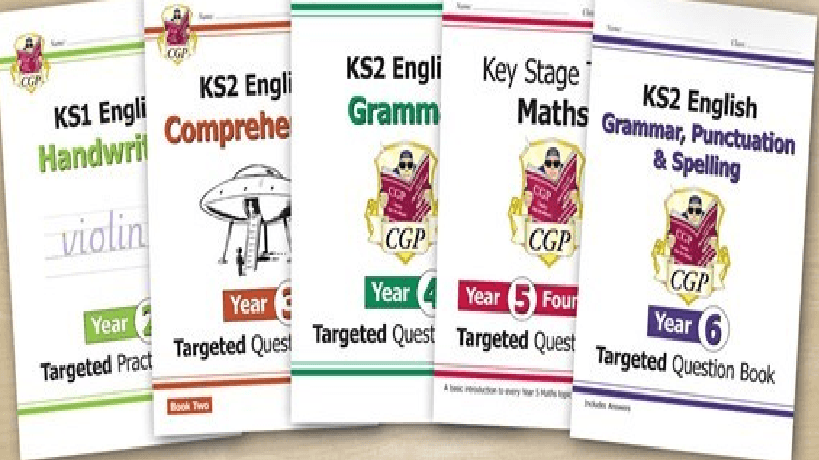 Converting
(These are the books we use in school although there are other workbooks available online.)
SOME NEW IDEAS TO HELP YOU AT HOME
Here is some further support for Home Learning from some great sources. Please click on the links below for a PDF.
These documents give some great ideas about how to organise your day and also how to check if it is working and of use. They also give you some simple (they are only 1 page each) tips on reading and talking at home and how important this is.
Supporting home learning routines: planning the day
7 Top Tips to Support Reading at Home
Read with TRUST - ideas to help to support with reading at home
The following places on our website have learning in key subjects:
CURRICULUM

Curriculum maps are on each Year Groups page to give you an overview of what your child has been learning in school this term that you can continue at home.

Year Group Home Learning pages have learning tasks that they children can undertake. These will be updated every Monday and Thursday by 12 midday with new Learning Tasks for the children.
COMMUNICATION WITH THE SCHOOL

Once the school has closed any communication with the school should be via 2 sources.

These email addresses should only be used for school related matters and only in the event of emergency.
ADVICE: Learning At Home from the Home Schooling Team at Brighton & Hove
Following recent school closures and the pressure this will put on families across the city, we are offering some practical tips and suggestions that we hope will help in this difficult time. What works best for you as a family will very much depend on the age and aptitude of your children, so this list is not designed to exhaustive. Please use as you find helpful.
Please bear in mind that resources listed in this letter are not formally endorsed by Brighton and Hove council. Therefore, please exercise caution and look at the sites yourself before allowing the children to access them.
If you have difficulty accessing online resources, advice is currently to drop down to 2G or 3G which may solve the problem.
THE IMPORTANCE OF ROUTINE
Children who are used to going to school will respond to routine and find it reassuring in this difficult time. Decide what time you will gather as a family to begin school activities. A 9am start makes sense as this is what they will be used to. Build in breaks for movement, screen time and outdoor time where possible.
Where it is healthy and safe to do so, consider starting every day with a short walk round the block, a run or cycle ride. Children and young people are used to walking to school or playing in the playground before school begins. They will settle more easily and quickly if they have burnt off some of that early morning energy and it will be good for the mental health of parents/ carers also.
Rather than having a timetable of lessons, think of it as providing children with a list of activities/ tasks to work through. Remember that individual learning is more intense than school learning so lessons do not need to last as long as they do in school- 20 minutes a day of maths might be plenty. Be realistic about what you can achieve without straining your relationship with you child.
OUR YOUNGEST LEARNERS
For younger children, a range of activities/ toys set up around the room that they can move between will keep them occupied for extended periods- if they go to nursery or are in reception, they will probably be used to this set up. Play doh on a mat on the floor, crayons on the kitchen table, a sink full of water and plastic cups can provide more entertainment than you might imagine, and don't forget that a nice long midday bath may be the perfect antidote for a confined young person (supervised of course).
Screen time intervals are also going to be important, so try and find some good apps where stories are read to your child or there are number games being played (see links below for ideas). There is nothing more important for brain and language development than reading, so if you find yourself struggling, focus your efforts here: whatever else happens in the day, take time out to share some books together. For children who don't enjoy reading aloud alone, they can read in unison with you or you can take turns reading pages. Keep it simple, positive and fun. Activities like counting money and cooking together are really valid learning experiences and should not be underestimated.
PRIMARY LEARNERS
Children who are in year 2 to 6 can be expected to work through tasks more independently for longer periods (20 minutes for a 6 year old, on average). Have a range of things you know they love to do as well as more academic work. Age appropriate jigsaws, matching games and board games are all constructive ways to learn actively. Regular Maths, English and Science is important. In addition to this, you can be flexible in your approach: these year groups will be used to taking a project-based approach to their learning, so you can use this to your advantage. Ask your child/ children what they would like to learn about, then let them do some research, draw pictures, write an information sheet, create a model etc. Although they are used to more independent work, they will still need regular check ins and lots of encouragement from you.
Where possible, set up a workstation for each child to use: even a cushion on the floor will provide a sense of separate space. Build in time alone where possible: sometime around the kitchen table or on the lounge floor is great but giving children half an hour on their beds with a pile of books or a sketchbook is a really good way to give them (and you) some quiet time through the day.
This age group will also benefit from contact with their friends, so if you are unable to go out and about, you could arrange video chats. They will need to feel in contact with the World at large. In particular with this age group, don't be afraid to talk to them about what is happening with the Covid 19 virus in a calm, factual way. Children this age can be reluctant to bring up difficult subjects, but that doesn't mean they're not thinking about them. They WILL be hearing the news, listening in to adult conversations and building a picture in their head of what they think is happening. What is in their head is usually worse than reality. Therefore, regular check ins regarding what they've heard and how they're feeling are very important. Look here for advice on how to talk to your child: https://youngminds.org.uk/blog/talking-to-your-child-about-coronavirus/
One of the most popular sites that primary school teachers use for printouts- Twinkl- is offering free one month membership to parents. You will find a wealth of resources here: Twinkl
https://www.twinkl.co.uk. More resources outlined below.
There are many online fitness workouts for children. Joe Wicks is running online PE sessions for children at 9am from Monday 23rd March. They can be found here: https://www.youtube.com/channel/UCAxW1XT0iEJo0TYlRfn6rYQ
MENTAL HEALTH
An important priority for looking after young people at home during this challenging time is mental health. There are several apps that can support you in this endeavour. They are available on the usual app platforms- search your provider.
Calm Harm: An NHS app that supports young people who self harm to resist and manage urges.
Clear Fear: For anxiety management
Combined Minds: For parents to help children
For Teens/Adults – Mindshift (CBT and mindfulness), SmilingMind (free version of Headspace) and Sanvello (anger management, CBT, mindfulness) has made all its premium content free for this period.
ONLINE RESOURCES