Year 2 2022 CAN NOW JOIN US
Each year in preparation for the next season we invite Year 2 children to join us at Friday Football Club in the final half term.
Therefore ANY Year 2 children who want to join Friday football club can complete the application below to join us.
The first time they will be able to attend is Friday 10th June 2022.
Some things for parents to be aware of.
You will need to be at the Level for 7.45am- to start by 8.00am.

Parents may want to wait and walk back to school with us however you may also want to drop them with their stuff and leave.

The children will all walk back together after football so they need a bit of road sense and to be able to carry their own bag and stuff.

You don't need all the gear- wear whatever is comfortable however we do recommend shinpads as it hurts if you get kicked.
If you have any questions then please speak to Mr Jordan.
Fill in the form below and you will get an email to confirm if you have made it to Friday Football Club.
https://forms.office.com/Pages/ResponsePage.aspx?id=KmTye347xE6qpnl9014JDMruQ45hrYNPj6--sJaA13RUQkJJQTNEUVdKT0o4M1IzN0M5VUhZQUZPVy4u
We are asked regularly where else children can play football in the local area.
Below are several places you can go along and join in.
ALBION IN THE COMMUNITY
We run a Saturday morning session at Hove Park Upper School for players from the U5 age category (4 years old and up) through to U13s. This session is aimed at players who may not have a lot of football experience and are perhaps just starting out on their footballing journey.
This session takes place from 9.30am – 11am and is charged at £5 a week for girls, and £7 a week for boys. If you want to make a booking for this, you can do so by following the below booking link. Sessions are bookable on a week by week basis, or alternatively you can book a block of sessions in advance.
Boys
https://bookings.albioninthecommunity.org.uk/soccerschools/courses/courses.htm?coursesSearch=search&clientCode=SS-HPUS-18
Girls
https://bookings.albioninthecommunity.org.uk/soccerschools/courses/courses.htm?coursesSearch=search&clientCode=SS-HPUS-19
We also run a Pathway Centre in Brighton for players form the U6 age category (5 years old and up) through to U13's. This session is aimed at players who have slightly more footballing experience, and these sessions take place on a Friday night at Dorothy Stringer School in Brighton from 5pm-6.15pm.
The sessions here are charged at £10 a week, and you can make a booking by following the below booking link:
FRIDAY FOOTBALL CLUB ON MATCH OF THE DAY
If you haven't seen the amazing Fairlight Football Club on Match of the Day then click here to watch it https://www.bbc.co.uk/sport/av/football/59615222
A group of year 5 and 6 members of football club spent a Friday at the Amex.
They were invited to take part in filming for Sphero and Brighton and Hove Albion for a promotional video that will be used to promote and sell the product to football teams and clubs all round the world.
This was then topped on the Monday when BBC Match of the Day spent the morning filming in school with Brighton and Hove Albion Legend Glenn Murray.
The children got to spend the morning showing Glenn the robots in action.
Teaching Glenn how to use the robots.
Challenging Glenn to some competitions.
Asking Glenn some questions.
And getting a signed photo of Glenn.
FOOTBALL UPDATES
It has been a tough season with Covid meaning not many games have been able to be played so far however training has continued in all weathers every Friday morning.
October 2021
UPDATE 1: Girls Football Tournament
Our amazing and legendary Girls Football Team were invited to take part in the Brighton and Hove Schools Girls Football tournament at Brighton College.
The Girls played well through the whole of the first round and qualified for the Trophy round.
Sadly the final round proved tricky and this was the end of our tournament.
The players however had a great time as you can see below.
UPDATE 2: First League Game of the Season
After a tricky journey across Brighton we arrived at Lancing College in Hove for our first game of the season.
For a number of players this was the first time they had played in the schools league.
Lancing College were a very tough team and despite some great performances we lost 5-1- with Aiden scoring a rocket free kick at the end.
A special mention to Roman- our top class keeper who kept the score sensible with some amazing saves.
September 2021
It was great to be able to take the Fairlight Football team to he start of season Brighton Schools Football Tournament at Brighton College this week.
After some hard fought games in the rounds we made our way to the final game where we ran out of steam and sadly lost 2-0 however we played right to the end and showed some great fighting spirit against much bigger teams- all of whom have school fields and who don't have a funfair on their pitch at the start of the season.
The excellent team photo is below- taken just minutes after the defeat.
As you can see they are still smiling which is amazing.
And don't they look good in that kit.
The team then later went on to get a silver medal each for their performance and keep up the tradition of Fairlight Football.
Now just to focus on the league season ahead and the girls tournament also.
FOOTBALL AT THE AMEX
We were very lucky to be invited to a tournament at the Amex with our Year 3/4 Team.
Sadly we lost 2-0 in the final but that was after two excellent victories and 1 draw.
More photos to follow.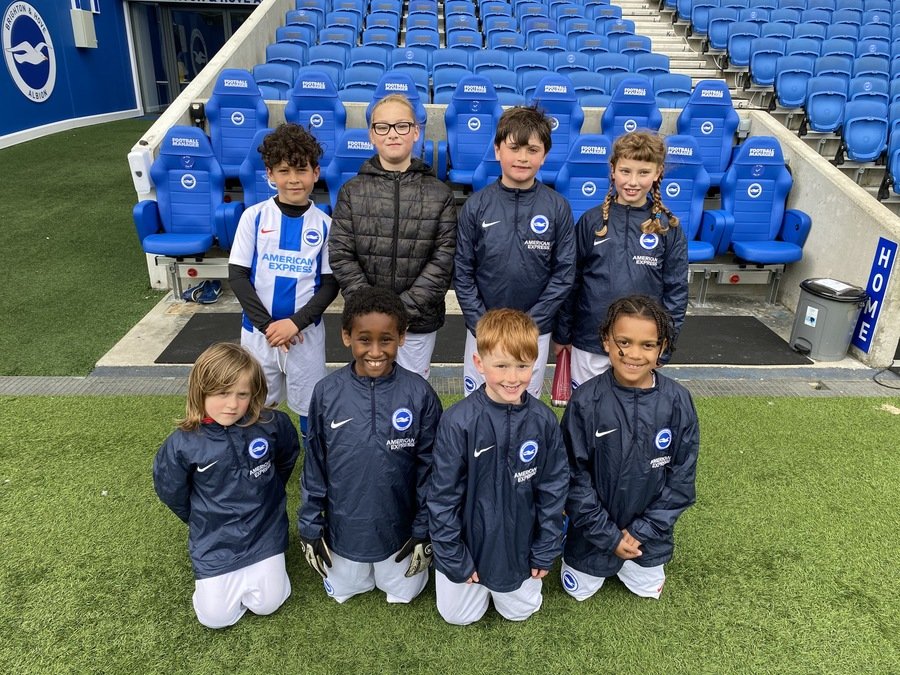 Fantastic Fairlight Friday Football CluB
A

rticle writ

ten by Mike Herd- Journalist, former parent, occasional helper and world traveller- so he has seen grassroots football everywhere.
The club starts every Friday morning at 7.45am sharp with a pitch inspection. That's because the grassroots in question belong to The Level, one of Brighton's most famous/infamous public parks – and you never know quite what the assorted revellers, skaters and dog-walkers will have left behind on the grass that, for an hour each week, is transformed into a training pitch for the budding young footballers of Fairlight Primary and Nursery School.
Fairlight Football Club has been described as a perfect example of the grassroots game. There are no fancy training pitches or match-day facilities here; boots and shin pads are mostly borrowed or donated, and the kit is most definitely non-matching (starting with the coach Mr Jordan's eye-wateringly lurid outfits).
Periodically, the club even has to compete with The Level's travelling funfair - but that doesn't stop our ever-growing band of future football stars turning out before school. Girls and boys from many parts of Europe, Africa, South America and even Hove bring a wonderfully multicultural, multi-lingual spirit to training – with everyone soon grasping the meaning of Mr Jordan's favourite tactical instruction: "Just boot it!"
Enthusiasm levels are never less than 110% - as anyone who has walked across The Level one Friday morning and heard a session in full swing will testify. These devoted (and noisy) youngsters appear through the murk and mist out the back of work vans or off the back of bikes, on foot or the local bus. Before their day of learning at Fairlight School has even begun, they will have tackled hard, scored a "worldy", or saved a certain goal from going in (well, that's the story they tell when they get back to school, anyway). What we do know from their teachers is that attention levels in class are always much improved after these training sessions.
Ages and skill levels vary, but everybody who attends regularly will get the chance to represent one of Fairlight's football teams in their travels around Brighton, Hove and beyond to play matches against other schools (we have no home pitch, so all games are away games). This season, the top scorer in our senior team is a very talented girl who also plays for Brighton & Hove Albion's Academy side.
The coach, kit man and team medic Mr Jordan – who also moonlights as Fairlight Primary's headmaster – hardly ever mentions how injury cut short his own promising football career. The club also relies on dedicated parents and grandparents to provide lifts to training and matches – and the half-time oranges – as well as clearing The Level of foreign objects and helping with the long walk back to school after each session. Sadly, there are as yet no team chefs to cook healthy pre-match meals – indeed, some of the children will be lucky to have eaten any breakfast before they arrive each Friday.
Further generous support has come from Brighton Aldridge Community Academy (Baca), who kindly let Fairlight play on their spectacular 3G pitch in the shadow of the Amex Stadium – and also refereed the game, and collected both teams by minibus! Brighton College followed suit with the use of their amazing facilities at Manor Gym and Brighton College, while cut-price tickets to a (victorious) Brighton & Hove Albion evening match definitely added to the togetherness and community spirit of this wonderful club.
If you feel you can help in any way – from offering lifts, football kit or any other equipment at all, to sponsoring our teams or even granting us the use of a spare minibus (well, if you don't ask, you don't get) – then please contact Mr Jordan at headteacher@fairlight.brighton-hove.sch.uk. Alternatively, just come and say hello when you are walking across The Level one Friday morning, between 7.45 and 8.30am. You'll be sure of a warm – and noisy – welcome.
COACH DJ ONLINE FOOTBALL COACHING
Some ideas that helped us get through lockdown with no football and where we were all looking to stay fit and healthy...
Welcome to the new ONLINE FOOTBALL SCHOOL that is run by Coach DJ (also known as Mr Jordan Headteacher) and with the help of his assistant and Saltdean Tigers Under 10 Defensive Rock HJ (he doesn't know this yet as it is 5am and he is still asleep).
This is for all football players out there whether you are Glenn Murray (Hi Glenn- don't get injured at home mate- mind those ankles) or Matty Ryan (he hates Palace and saves Koala's- Top bloke) but most importantly for those of you from FAIRLIGHT FRIDAY FOOTBALL (welcome new members and at least it is dry and not at 8am on a Friday morning- Eros will still be late however) and of course those super nice, friendly, never argue, well behaved SALTDEAN TIGER UNDER 10's (Sam pay attention, Sonny stop fighting, Alex put the pies down, Fares are you warm enough etc.). Everyone and anyone is welcome whatever your ability.
To help you continue with your football training I will be posting drills, skills, tricks and tips for you to practise and try out in the garden, in the house (check there is nothing that can get broken and that mum is not around), in your bedroom or anywhere you can find some space. These will in the most part be drills that just require you. A ball. Some basic equipment (however you can make this up) and lots and lots and lots and lots of repetition and practise.
We will group the Coaching into EASY, MEDIUM, HARD and CHALLENGES.
This is based not on how good you are but how simple it may be to do them.
Remember it is always good to start with an easy skill or trick but it is always important to do these over and over and over again until your muscle memory just does them. In the words of Lionel Messi "I start early, and I stay late, day after day, year after year. It took 17 years and 114 days to become an overnight success".
And remember it is about practise. Not winning. Not missing. Not being perfect straight away. As a fellow Mr J says "I've missed more than 9000 shots in my career. I've lost almost 300 games. 26 times, I've been trusted to take the game winning shot and missed. I've failed over and over and over again in my life. And that is why I succeed" Michael Jordan- goggle how good he is at Basketball to see.
THE CONTENT
Some of these ideas will be be pictures and instructions.
Some of them will be videos that other people have already made (there is no point reinventing stuff).
Most excitingly some will be videos that Coach DJ and HJ have made. Bloopers section to be announced soon! And sorry to our neighbours who have got lots of footballs in their garden already thanks to Louis and his shocking skills.
HOW YOU CAN HELP AND JOIN THE TEAM?
Coach DJ and HJ however can't do all of the hard work. Coach DJ has another job that keeps him quite busy. And HJ has FiFa, Fortnite and Super Mario skills to be practising- and sorry his mum has just messaged me- Reading, Maths and Handwriting also to do.
If you want to get involved then you can also be part of the coaching team. You can do this in several ways.
Find super coaching videos on the internet and send us the links. Have a watch of the video, try it out to see if it is any good or how easy it is to do. Decide if it is Easy, Medium, Hard or a Challenge and then send us the details and we will post it here along with who suggested it.

Find a coaching drill or photo of a drill. Again try it out and see if it is any good and send it to us.

Film yourself. Now we don't want a 20 minute video of Zaiden missing 49 crossbars in a row and finally getting it on the 50th attempt or of Theo smiling at the camera for 5 minutes for all his online fans and then kicking a ball. Make your clip short, sweet and to the point (like Elias). Focus on the skill. Where possible we don't want to see your face (especially yours Arnie),we just want to see the skill. Make sure you include an explanation as some beginner players may need some help and so will Darren. Again tell us if it is Easy, Medium, Hard or a Challenge.
DISCLAIMER: Please check out the content of what are sending before you send it. Watch it through to the end. Not everything may get published. Coach DJ can't be held responsible for any content you check out. Stay safe online people. And if Dave posts a video please ensure you have an adult check it first.
BIG SHOUT OUT: A big shout out to all those ballers out there making videos and websites to help out young players. Huge respect!!!
We will post all the content here for everyone to see, practise and continue with their football training.
Elbow bumps all round to you all and get practising.
Send your clips, tips and content to headteacher@fairlight.brighton-hove.sch.uk mark the email Subject For the Attention of Coach DJ.
EASY
Start simple. Keep it simple. And practise these skills over and over and over again until you can do them with your eyes closed or blindfolded (we will be accepting videos of you doing these blindfolded!!!!- make sure it covers your whole face Wilf there are young children watching these and we don't want to scare them).
TRAINING ROUTINES
SKILLS
MEDIUM
Now we are starting to get on to the more advanced stuff. Routines, skills and tricks that might need lots of practise and you don't master or get for days and days. However don't ever give up. Coach DJ didn't just become an amazing footballer. It took a little bit more than 10 minutes (11 to be exact). And remember you are still learning.
SKILLS
HARD
Now this is the stuff of dreams. The tricks that even Ronaldo has to practise. Or Mbappe only does once in a match. This is the stuff that will need to be done over and over and over again just to even get close to doing it right once. And then when you do it the next day you can't do it. However don't ever give up. Don't ever decide you can't do it. You can. Also remember that Ronaldo also doesn't have reading and maths work to do. He doesn't have his bedroom to tidy (Leo sort out that bedroom). He just plays football, sunbathes and poses a lot (just like Archie).
SKILLS
Juggling: https://www.onlinesocceracademy.com/soccer-training-videos/juggling
Tricks: https://www.onlinesocceracademy.com/soccer-training-videos/tricks-skills
CHALLENGES
Now this could be anything and everything. From Rabona crossbar challenge. To the toilet roll keepy up challenge. To getting the ball down from the tree challenge (Alex throw it don't kick it).
This is a chance for you to think creatively.
This is also where we will be posting online gaming challenges also. FIFA challenges can be filmed or photographed and posted here.
CHALLENGES
Stay at Home Challenge: Good skills and something you could all try!!!